5 Tips to Prepare for a Video Interview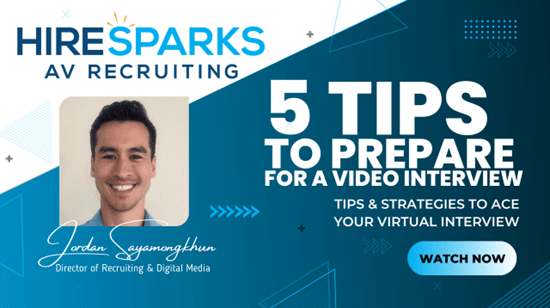 Prepare for success with these 5 Tips to Prepare for a Video Interview from HireSparks AV Recruiting's Director of Recruiting & Digital Media Jordan Sayamongkhun. When it comes to the next step in your career or seeking top-notch AV talent for your business, HireSparks is the only name in the AV talent market.
5 tips to prepare for a video interview.
1. Dress to Impress: Dress as if you were interviewing in person at their office.
2. Grooming: Grooming is ever important in HD or 4k video! Do you want your audience fixated on your nose hair or hang nails?
3. Express Yourself: Express yourself as if you were meeting in person. Don't be stiff! Your facial expressions and hand gestures need to express your passion and points.
4. Be your own producer. Practice your video with the same platform you'll be using to make sure your background is set, your lighting is good and you are protected against any potential sound and distraction. For example, put the dog outside or ask your spouse to take your children into another part of your house.
5. Keep your head in the Game. Interviews are a lot like a tennis match. The interviewer serves you a question. Answer it and pass the ball back to them. Don't go off on tangents. They have a list of questions to get through and there should be time for ad-hoc conversation at the end.
We here at HireSparks wish you success in your next video interview! You've got this.